spread.lamipoj.buzz https://how.fonaheri.bar Roberto Cuevas Mora is the new graduate of the Master in Mining program of the Faculty of Physical and Mathematical Sciences of the University of Chile.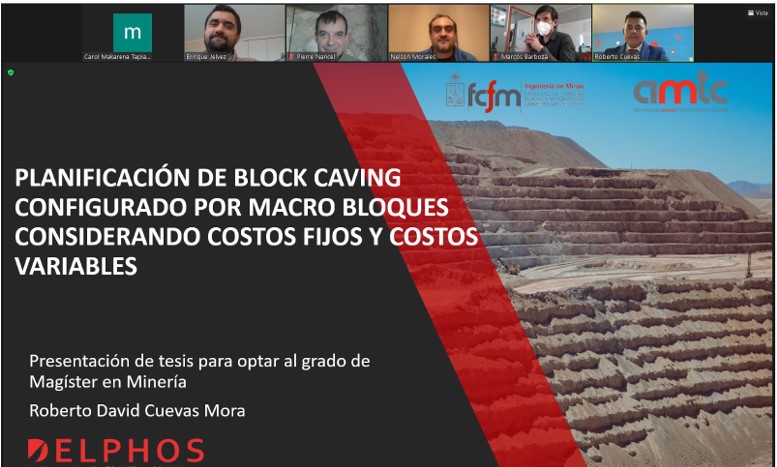 On June 24th, 2021, David passed his undergraduate exam from Mexico before a commission made up of Enrique Jélvez (Commission President), Pierre Nancel-Penard, and Marcos Barboza (Examiners), and Nelson Morales (Guiding Professor).
David did the thesis titled "Block Caving planning configured by macroblocks considering fixed costs and variable costs." His research focused on developing a methodology that incorporates the impact of fixed and variable costs when performing optimal scheduling of macroblocks using the Block Caving method.
The new master's degree indicated that he proposed to address the influence of fixed and variable costs in the planning of BC/PC by macroblocks. In summary, his work consisted of:
Define the economic floor that maximizes the net present value considering fixed technical and economic parameters.
Determine the economic envelope of the geological resource model in both methodologies.
Perform an optimal extraction schedule using the traditional methodology maximizing the value of the business.
Perform an optimal extraction schedule based on costs that vary depending on the extractive capacity of the macroblock.
Compare both schedules in terms of the economic benefit of the business, amount of resources extracted, and exhaustion time.
David is a Civil Engineer (2011) and a Mining Civil Engineer (2013), both from the University of Sonora (Mexico). He currently works as a Planning Engineer at Hecla Mining Company.
Roberto plans to continue his development as a mining planning engineer, focusing on the long term. In addition, he plans to begin his preparation for mining project management.
David and his family ending an essential stage in their lives.
Congratulations to the new Master in Mining!