procaloogmarbi.gq Al igual que el año 2015, este año se llevará a cabo un nuevo taller de planificación minera. En esta ocasión, la iniciativa es organizada por el proyecto Anillo de Desafíos en Planificación Minera (DEPLAMIN) en conjunto con el Advanced Mining Technology Center (AMTC) y patrocinada por el Departamento de Ingeniería de Minas de la Universidad de Chile.
go to link En el taller desarrollado el año pasado se obtuvo una importante concurrencia de personas invitadas de la industria; instancia en la cual se presentaron las herramientas desarrolladas por DELPHOS y donde se pudo recibir un importante feedback de las necesidades actuales de la industria.
lockdunntourdi.ga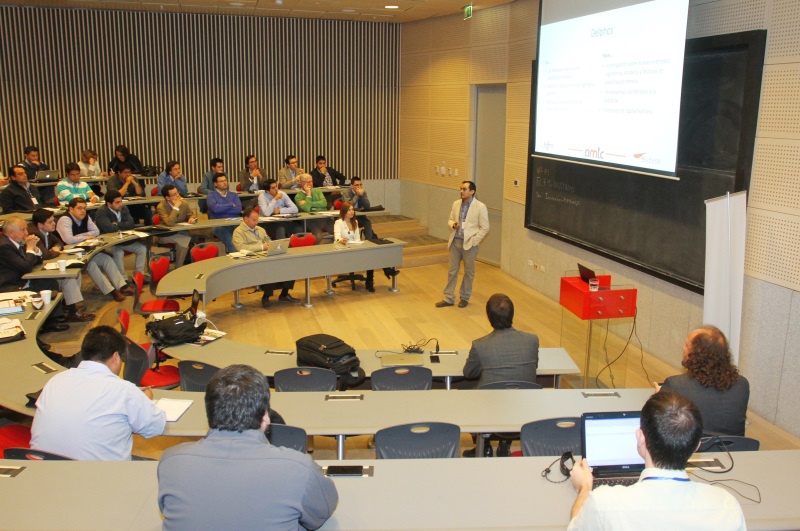 https://ecnimabi.tk El laboratorio de Planificación Minera DELPHOS participa de esta importante iniciativa, que se ejecuta en el contexto de un proyecto anillo, financiado por CONICYT, en coejecución con la Universidad Adolfo Ibáñez, La Universidad Católica del Norte y la Pontificia Universidad Carólica de Chile.El lanzamiento del proyecto es el 30 de mayo de 2016. Más información aquí.
Delphos will be present at APCOM 2015. This conference will be held in May 2015, at Fairbanks, Alaska. The papers to be presented are:
Maximiliano Alarcón, Xavier Emery and Nelson Morales, "Using simulation to assess the trade-off between value and reliability in open pit planning".
Nelson Morales, Enrique Jélvez, Pierre Nancel-Penard, Alexandre Marinho and Octávio Guimarães, "A Comparison of Conventional and Direct Block Scheduling Methods for Open Pit Mine Production Scheduling".
Nelson Morales, Alejandra Gómez and Javier Vallejos, "Multi-criteria optimization for scheduling of a bench and fill mine".
Cecilia Julio, Jorge Amaya, Amina Lamghari and Nelson Morales, "Optimal Economic Envelope of Joint Open-Pit and Underground Mines".
Delphos helps to create bridges between the Operations Research comunity and mining by partipating in OPTIMA 2015.
Morales N., "Nuevos desafíos para el modelamiento en planificación minera", in OPTIMA 2015, Antofagasta, Chile. (plenary session)
Nancel-Penard P., Cornillier F., Morales N., "A hybrid improvement heuristic for the constrained pit problem in open pit mining", in OPTIMA 2015, Antofagasta, Chile.
Lobiano C., Morales N., Vallejos J., "Integración del peligro sísmico en planificación minera de Panel Caving", in OPTIMA 2015, Antofagasta, Chile.
Toro H., Morales N., "Modelo de agendamiento de actividades de preparación minera de corto plazo", in OPTIMA 2015, Antofagasta, Chile.